I do buy from TV shops for example from Go-Shop and CJ Wow Shop. And the reason I am writing this because there was a purchase which I bought from this shop comes with slight defect, thus I requested for an exchange.
This item was bought somewhere in Jan 2020 and request for exchange on 1st February 2020. Item was picked up for exchange on 12th February 2020 and until today, I have not received the exchange item.
I been calling CJ Wow Shop customer service a couple of times and request that the item be deliver to me as soon as possible and promises been made but item failed to deliver. Below is the tracker for my item:-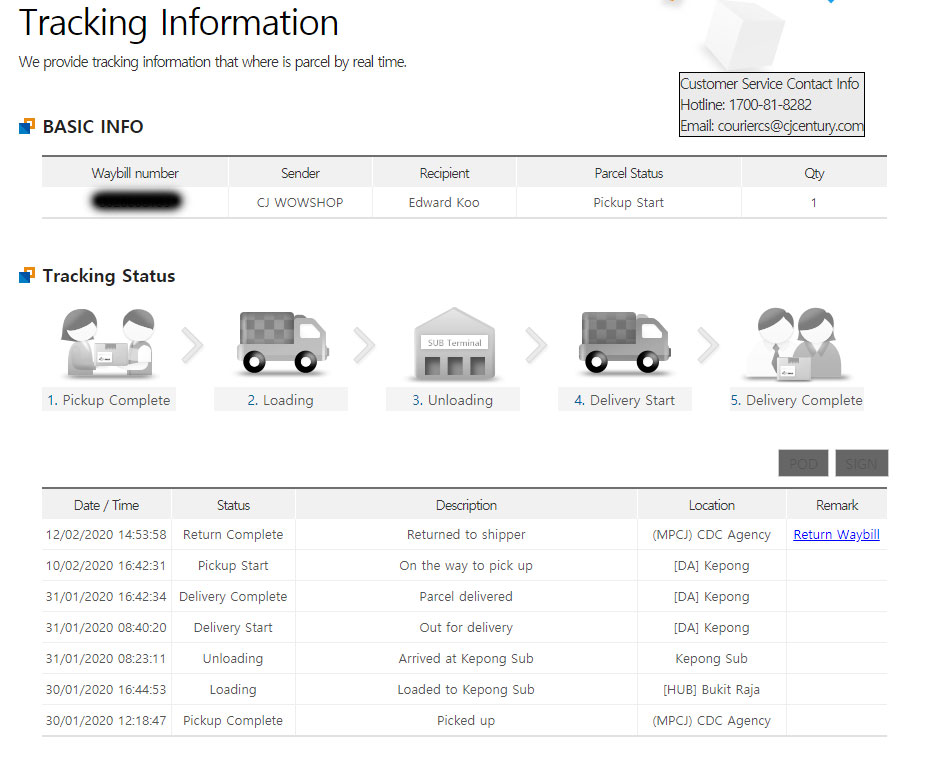 Tracking notes:
30-01-2020 : Order product.
31-01-2020 : Goods received but found size defect and seek replacement.
10-02-2020 : Picked up by courier service for replacement.
12-02-2020 : Goods arrived at wowshop facility. CJ Wowshop received the goods as tracked in courier's company tracker.
** In between 12th Feb to 30th Mac, I have tried calling customer service and I was always given the answer that they will escalate to their department and shall revert within 3 working days **
30-03-2020 : 4th times calling customer service to request for the exchanged item. The 1st, 2nd and 3rd times, promises was made but failed to deliver. On 1st attempt, it is promise to deliver the exchange within 21 days from date of collection (which was on 12-2-2020). According to customer service, goods replacement delivery date suppose to be on 10th April 2020.
10-04-2020 : No replacement goods yet so I called customer service again. I asked to speak either to their warehouse personnel (whom are suppose to revert back) or someone who can really help me check. To my disappointment, customer service said they are the ONLY channel which is a single point of communication. They said they will write (email) to warehouse again to check and to revert within 3 working days. Again, after 3 working days, no one responded from CJ Wowshop.
** In between 10th April to 21st April, I have tried calling customer service and I was always given the answer that they will escalate to their department and shall revert within 3 working days **
21-04-2020 : Still no news from CJ Wowshop, hence I called customer service again. This time instead of asking for the replacement, I seek for refund since it took them so long to make the replacement. According to the customer service, refund would take 17 days but on Cj Wowshop website, refund is only 10 days. Anyway, since waited for so long, I said I will wait for the refund. Again, customer service said, they will get their finance to revert back to me within 3 working days.
04-05-2020 : I called again to ask about my refund. Again, the same answer from customer service, they escalate to finance department and they shall revert within 3 working days. After 3 long days, nothing happens, nobody called and I was left in the blind of what is happening.
12-05-2020 : Today I called the customer service again. This time is worst, customer service said refund takes 31 days from the day I request for refund. WHAT??
OMG!!! I could not take it anymore!
This prompted me to make an official complain to KPDNHEP via their official website at https://www.kpdnhep.gov.my/ms/. I register via https://e-aduan.kpdnhep.gov.my/ in order for me to submit an official report.
I wasn't sure whether kpdnhep would help in small cases like mine but what the heck, I will give it a try since I really got fed-up of waiting and worst of all, CJ Wowshop has only a single point of contact and if this single point of contact cannot do anything, there are no other way to complain to their higher management.
And so i wrote my complain to kpdnhep online explaining my time-line and submitting the relevant proof (deliver tracking).
17-05-2020 : To my surprise, wowshop personnel called and responded to my complain. They said they received a letter from kpdnhep regarding my case and they investigated within their own organisation. They found out that warehouse apparently either lost the return goods or misplaced the goods thus they never want to respond to my calls / replacement. The personnel then promised to quickly refund my money and help me settle to my complain.
18-05-2020 : CJ Wowshop personnel called to inform me that my refund has already been deposited to my bank account and asked me to verify with my bank.
Talking about bad online shopping experience even coming from a TV corporate (in this case is CJ WOWSHOP). I have shopped in shopee, Lazada and Aliexpress but my experience with these platforms are better. WOWSHOP are the worst in terms of their after sales service and customer respond service. They make very fast delivery but when they are issues with the goods, they just *ding* and *dong* with you.
**To be honest, I have proof of my telephone conversation with their customer service but due to privacy, I will not attach them here.**