Free And Easy In Bangkok Day 3. I haven't gone the time to actually post my day 3 in Bangkok trip since the last post which is somewhere in November 2017 (see this link for my Day 2 in Bangkok) due to my busy trying to resolve website programming for the past 2 months. I have not finished my work yet but I find time to update what I did in my Bangkok free & easy trip Day 3.
Breakfast in Bangkok (Boat Noodles).
On Day 3, we decided to go for our boat noodles which is made famous due to its small size noodles and supposedly served on a small boat. It was famous at the floating market. But we are not going to the floating market so we opt for boat noodle on dry land instead. The famous area where we get our boat noodle kick is at a place near Victory Monument MRT station.
So, early in the morning after our workout in the hotel's gym (yes, there is a gym in the hotel), we took Grab to "Phra Nakhon Boat Noodle" (fare is 140 baht). There are few shops selling boat noodles to select with different colored uniforms. If my memory serve me correctly, the 1st stall uniform is blue. We didn't stop by the 1st stall instead we go to the 3rd stall which is with orange uniforms. I don't know how to read Thai so I just choose the orange colored uniform stall without knowing much of what is the name of this stall.
Arrival near boat noodle shops.
Checking out street stall just right outside.
Victory Monument roundabout.
Our arrival to this boat noodle stall (orange uniform) – notably the best of noodle boat? That's what the sign says.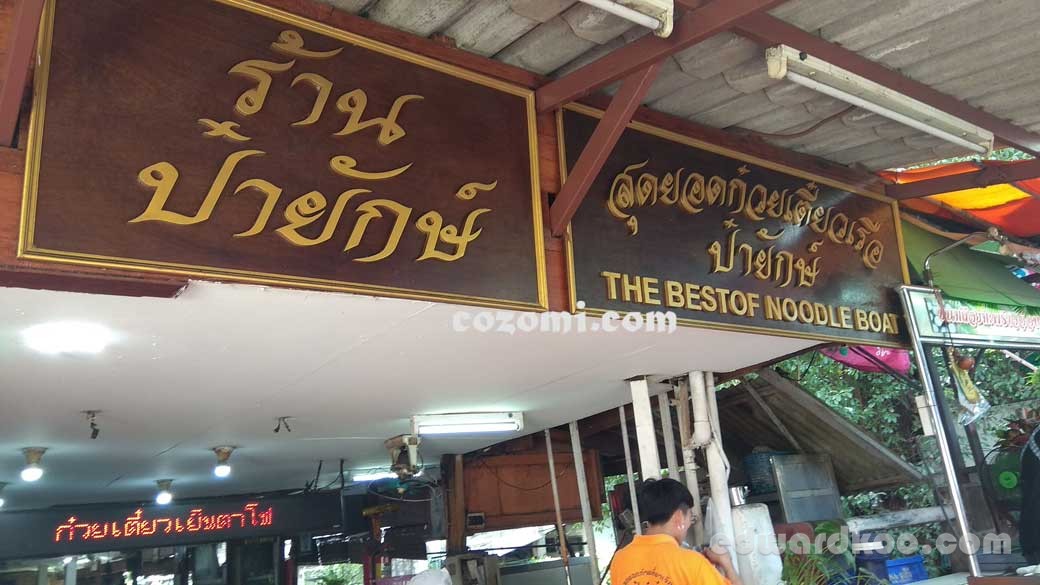 This stall is right in the middle of all shops. You wouldn't miss it.
And now the presentation of the noodles but 1st let's take a look at the pricing (bear in mind this is taken in 2017).
And now the noodles we ordered. We basically ordered all the noodle's variety but not the side menu items. When you are there, of course, try out every noodle variety. So in no particular order, I present the different type of soup based noodles. Remember to try every variety.
Next single side dish we ordered.
Items available for FREE
This sweet dessert is not free tho. I couldn't remember how much it cost but worth a try as it is good.
And Finally …. the main satisfaction is how many bowl of noodles you can eat.
Google maps location:
Mid-day
Our next stop after our big noodle breakfast. To Chinatown Bangkok (Yaowarat Road) for some shopping. We took a grab to Yaowarat from the vicinity of Victory Monument area at around 140baht. We reached the edge of Yaowarat road near a temple.
Short walking distance to the very busy Yaowarat road for shopping. Actually, one of my travel companion wanted to buy some dry pork meat food, so we are on our way to this shop.
And we have reached the shop. The shop name is "Lim Jing Hieng". According to this friend, they sell the best dry pork meat. I didn't take any photo of what we bought so go explore yourself and buy some as souvenir.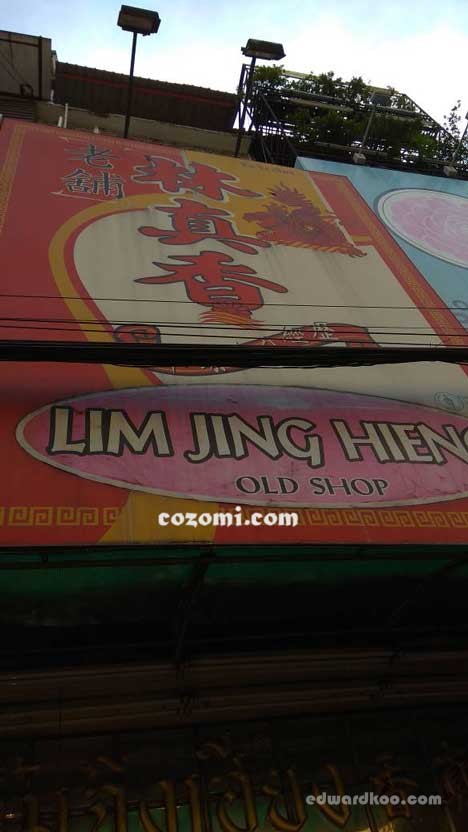 Along Yaowarat there is a market with plenty of street stalls. Beware of traffic especially if you want to cross the streets as it is filled with cars and because the road is straight, you will have to walk quite a distant before you reach a traffic light. By the way, along this road, there are plenty of shops and restaurants selling bird nest and shark fins soup.
Photo below shows edible food near a market.
Google maps location:
After shopping, we went back to our hotel for a rest and unpack all the foodstuff we bought. For dinner, we simply just wanted to go to this place near riverfront; Asiatique Riverfront. We are going there for dinner as well just enjoy a short riverfront walk. Our grab to this place cost us around 176baht. And so we have reached.
Dinner Time
You can buy tickets for cabaret show and live Muay Thai boxing match but if these are not what you go there for (like us), there are other stuff to do like enjoy some seafood dinner here as well as do some shopping.
Or if you fancy, you could buy a cruise dinner ticket and enjoy your dinner while cruising the riverside. To dine on the cruise, make sure you book your tickets early.
We don't have the luxury of time for a fancy cruise dinner, so we choose to have our dinner in one of the many restaurants here (in this small sort of fast food restaurant inside Asiatique riverside open mall).
We ordered quite a number of dishes. Foremost, Red curry with fried chicken set.
Green curry with pork bacon set.
Sweet and spicy pork neck meat.
Tom Yum Gong with prawns (king of Tom Yum).
Black sauce stir fried squids with peppers and chilies.
Google maps location.
And that's it for Day 3 in Bangkok.
Do read my Bangkok Free and Easy Day 1 and Bangkok Free and Easy Day 2 here.