Free And Easy In Bangkok Day 1
Upon reaching Don Muang International Airport Bangkok Thailand, we took a Grab-taxi to our hotel near Sam Yan Metro Station. Before I ordered Grab Taxi, I checked out airport taxi pricing. To go to our hotel (Mandarin Hotel Bangkok), it would cost us 700 baht so I guess Grab-taxi would be cheaper alternative. Our ride by Grab-taxi to the hotel only cost us 485 baht (includes using the toll-way – 2 tolls cost 50 baht and 70 baht each). If you flag public taxi outside airport, it might cost slightly cheaper depending on traffic condition and road the taxi driver uses. Instruct the driver to use the toll-way as it is the best route to go as it is less jam and faster.
Of course, you could also take public buses just outside the arrival gate (gate 6). Bus rides are cheapest but longer time to get to your destination. You could also opt for bus ride to the nearest metro subway or BTS train station. Bus number 21 or 25 goes to these train stations and then transit. I would probably think the total cost may also come close to around 400 baht. I would recommend using Grab-car or Grab-taxi since the service is available in Bangkok now. Prices are fixed and no touting. Anyway, I reached my hotel in less than 45 mins (using toll-way).
Checked-in and the room is fantastic. Clean and spacious. Standard amenities like TV, hair dryer, microwave oven, separate shower area, toothbrush and toothpaste, shower cap, ear buds cotton and 2 pairs of slippers and 2 sets of wardrobes. Best in the toilet is the "Japanese" style toilet seat cover (with heater, bidet and dryer all-in-one).
Snapshot of hotel entrance towards reception lobby.
Swimming pool and fitness center facilities available. Pool is standard 1.2m deep.
Complimentary room snacks and drinks.
Standard double bedrooms (king size bed) or standard twins sharing bedrooms.
Microwave for reheating your food especially useful when you feel like having some sausages, etc. Bangkok's streets food are aplenty so it comes in handy when you want to reheat those foods you bought from the streets.
Yes, free infused water at the hotel lobby for all guest. Available from morning 8am till around 9pm.
Mandarin Hotel Bangkok on Google Maps Location:
Taking the street food for Lunch quest.
Upon checking in, we went out for lunch (yeah, so hungry after the flight and doing all checking in stuff, etc), so it's time for some tummy filling. Right outside the hotel exit (turn left) and walk about 50m, there are a few stalls selling local delicacies for selection. You can also visit one of any 24 hours outlet available (3 marts are available along the way – Aeon 24 hours mart or 7-11 outlet or family mart). For us, street food it is.
Along the street from the left of hotel exit.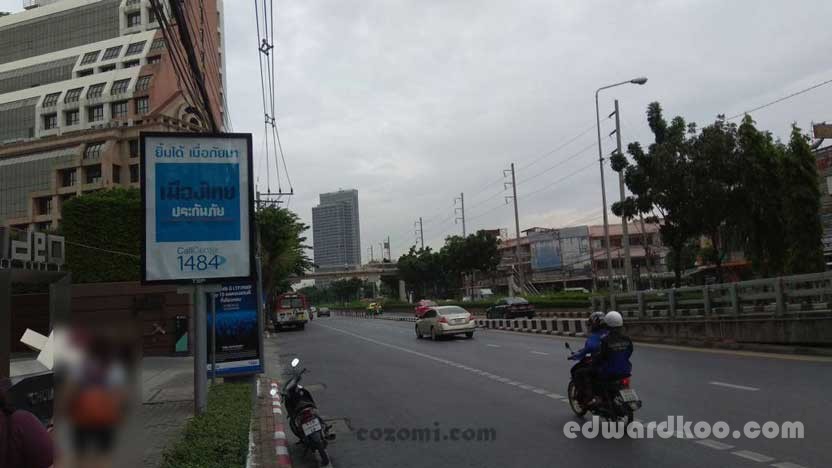 Local mixed rice stall. Selling variety of local delicacies. Lots of local eating at this stall.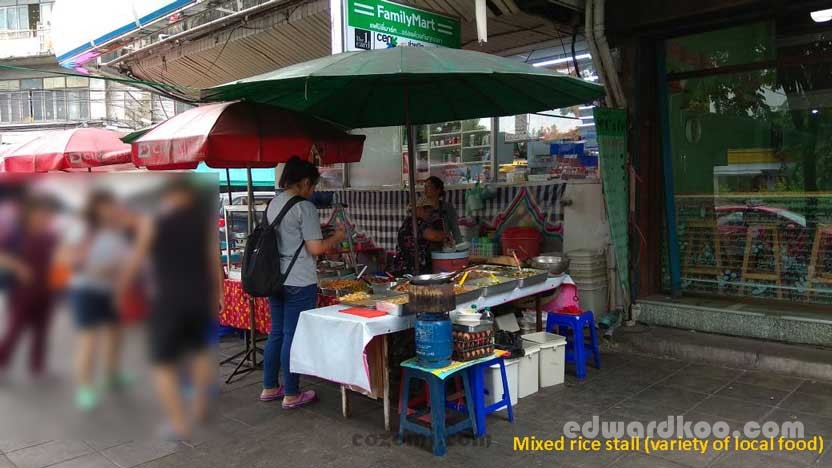 Close-up of the stall. Many food to choose from.
Local street stalls.
One of the stall where I bought fried noodles with pork (50 baht).
This is it, fried noodles with pork at 50 baht. Delicious!
Another stall where we shared some noodles soup. Around 60 baht each bowl with side order for extra fish balls and some crunchy fried dumplings.
After our lunch, we walk back towards our hotel on the right, there is Chamchuri Square. Inside this shopping mall, there is a Tesco Lotus (small Tesco). I bought some tidbits and one which I like is the Crispy Pork Chips. I couldn't remember the price but sure is tasty. Oh yes, if you don't like street food, you could drop by Chamchusi Square food court (also selling variety local thai food and western food).
Road along hotel.
Crispy Pork Chips.
Here is a yummy chip.
Also bought fresh mango with chili dips from Tesco Lotus. One of the local favorite.
Load up for some BBQ seafood dinner at Mangkorn Seafood Restaurant.
Mangkorn seafood restaurant is an all-you-can-eat BBQ seafood restaurant at 399 baht for 1hr 45 mins. We took a Grab-car to Mangkorn Seafood restaurant from hotel that cost us 210 baht only. Hassle-free as this place is not easily reachable by trains. Taxis (cabs) or tuk-tuks are the only option. Tuk-tuks are expensive and dangerous. Make sure you are early to avoid the crowd (6.30 pm is just nice).
Open air table seating.
Mangkorn Seafood sign.
Must dip in the chilies for a full-blown taste. The green chili dip is the best in my opinion.
The crab is ALIVE! Video captured!
Bill with stated duration for all-you-can-eat. (a bit dirty after all our BBQ stains .. *haha*).
Google Maps Location:-
After dinner, we took a taxi to New Rod Fai Market (night market). The location is nearby around 10 mins by cab but due to the traffic jam, it took us about 30 mins to reach this new night market. By meter taxi from Mangkorn Seafood restaurant to Esplanade is only 73 baht (including traffic jam time). I think if there is no jam, taxi fare maybe cheaper.
Esplanade shopping mall (I didn't notice that photo taken was blurry).
Photo of entrance sign to this New Rod Fai Night Market. Well, 1st off there are plenty of food stalls. Seafood buffet also at 399 baht per-person but here is crowded and tight seating. By the way, this night market is behind Esplanade shopping mall (walk about 5 mins towards the back of this shopping mall). You should not miss the entrance as it is filled with bright lighting and lots of cars. What to buy here? Most cheap imitation products from clothing to watches to shoes (anything everything). You can also get your tattoos done here.
Entrance with lots of people.
Real local delicacies. Fried worms, crickets, etc. I didn't see any fry scorpions in this stall. Really crunchy little critters. Try it if you dare!
Google maps location:

Read my Bangkok Free & Easy Day 2 and Day 3 article.