On your visit to Sarawak, drop by to watch OrangUtan feeding at Semenggoh Wild Life center. This is a must-visit place in Sarawak. It is about 40 to 45 minutes (including slight traffic jam) drive from Kuching town. 
There are 2 feeding sessions per-day; one morning session and one afternoon session. The morning session is from 9.00am till 10.00am and the afternoon feeding is at 3.00pm till 4.00pm. If you are an early bird and like the smell of fresh air, go for the morning session else just go for the afternoon session. Bewarn, afternoon session is hot and humid so be prepared to sweat a lot.
On arrival at the entrance, there is an entrance fee to be paid. Tickets are at RM5.00 per-adult and RM2.00 per-kid (for local residents). After buying the tickets, drive all the way into the park and there is a car parking area.
*Note: If you took a bus or taxi there, expect to walk for more than 30 minutes from the entrance to the feeding center.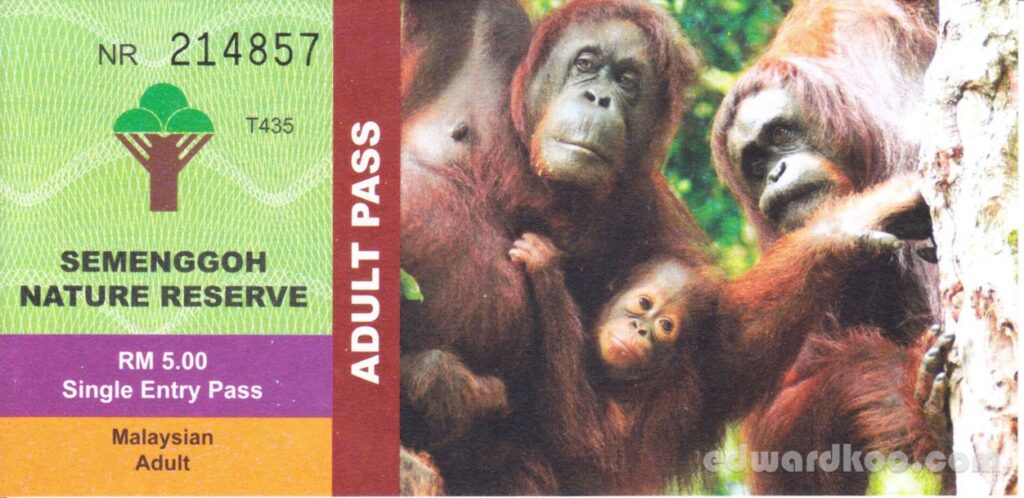 Once parked, expect to walk about 5 minutes to the feeding center. The first 20 to 30 minutes of feeding usually at the outside in the center. The remaining time, you are expected to walk into another feeding area which is in the forest (about 7 minutes walk in).
The moment you walked into the forest, it will be humid and hot (in the afternoon) even though there are lots of overhead trees. The feeding then continue from there and that's where the keeper calls out for those free roaming orangutan.
At times, they may not come as they are free roaming in the jungle, so it is very much depending on luck and the mood of these orangutans. If they do come in for food, see how these orangutan cracks open the coconuts with their strong arms.
*Note: These orangutan are free roaming in the forest and in case they run amok and attack, always listen to the keepers safety instructions. Also, do not use flash during photo taking as this may frustrate them.
Google Maps Location
My selfie with famous Kuching cats in Kuching town center (Sarawak).