Recently, I have been a victim (actually more like my car was the victim) of car exhaust pipe theft. I have never encountered any car exhaust pipe theft before in my life until my car exhaust pipe was cut and stolen last week. Yes, I have heard of sports rim theft, car battery theft, car stereo theft or car being broken into but what! … car exhaust pipe theft? First time in my life and it is ridiculous.
There must be willing buyers that intensify such theft and I strongly believe these stolen parts are sold to chop shop (used parts dealers) and maybe to these exhaust pipe repair shops. I have known that these repairs shops does resell and install used exhaust pipes but many shops are only doing sports exhaust pipes because these are the ones that yielded good profits.
My car was an old car (more than 13 year old), I was bewildered that the parts are still marketable or it is still? Big question is if my car exhaust pipe is a "catalytic converters" exhaust then maybe it would be targeted like for examples from this web news: link https://www.carsifu.my/news/why-catalytic-converters-in-cars-are-being-stolen but clearly my car is not.
Or maybe this could be the case where https://www.thesundaily.my/local/police-cripples-syndicate-targeting-car-exhausts-nabs-15-men-CC5400664 read:-
"A total of 15 male suspects including two Bangladeshis, who were suspected to be active in stealing vehicle exhausts, were nabbed at three separate locations on Friday. Gombak district police chief ACP Arifai Tarawe said the suspects, from 27 to 56 years old, were detained in Rawang, Gombak and Sentul. He said the suspects could obtain a profit of from RM500 to RM2,000 depending on the type of exhaust box which had been cut to be sold to recycling premises and vehicle exhaust workshops. "The syndicate was found to be active since the middle of the year based on reports received on loss of exhaust boxes,' he told a media conference at the Gombak district police headquarters, here, yesterday. He said the suspects were believed to be targeting cars which were parked in the porch of houses at night and at quiet places. Arifai said the police were still investigating all the suspects to determine their involvements in the vehicle exhaust theft activities. ''They are believed to be linked to nine missing car exhaust boxes reported in Selangor,'' he said. He said the suspects were remanded up until yesterday and the case was being investigated under Section 379A of the Penal Code. — Bernama"
Anyway, below image shows the cut.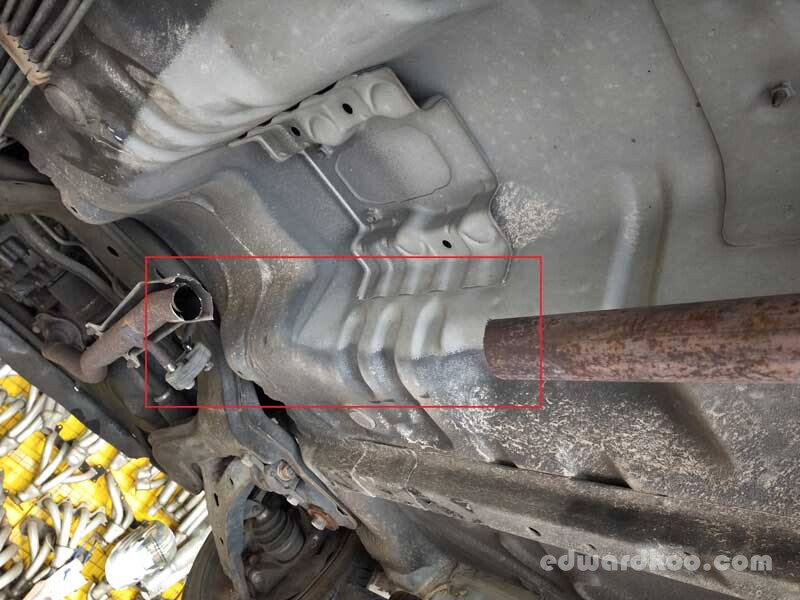 According to the repair mechanic, usually the thief would target cars parked at quiet places or cars that was left stationed for more than few days.