This is truly a must try Kobe Beef in this Steakland Steak House in Kobe, Japan. My family and I made this trip to Osaka and one of our itinerary is to visit Kobe after our tour in Totori (Read about our Sand Dune Totori visit here).
Wagyu beef already expensive in Japan but the price cannot be compared with Kobe beef. To me, Kobe beef is like one level higher than of wagyu beef. And yes, I was very worried about our budget because it is going to take a big chunk out of our travel budget. But what the heck, it is not every day that we are able to enjoy Kobe beefs in its homeland Kobe (*hahaha*).
We reached Kobe at around 6.00pm by bullet train from Okayama and it is just nice for a relaxing dinner after a tiring day. By the way, I found this Steakland steak house via Google search and it was considered one of the cheaper steak house around the area. In Kobe itself, there are many restaurants selling Kobe beef but as we are in a foreign land, it makes sense to just follow the recommendations by the many helpful reviewers out there. The steak house is about 10mins walk from the train station.
Note: Steak land or Steak house is very common in Kobe town area and this restaurant name is only in Japanese so just follow my Google Maps location below this article to get to this restaurant. The waiters are not well verse in English but no worries, they have a simple English menu, just point, order then wait for your meal to be served.
Steakland Steak house.
Price sign image taken in Nov 2019. We chose the cheapest in the menu at 4,880 yen Kobe beef steak set (exclusive tax). Along the street we were walking, there are many restaurants offering Kobe beef too.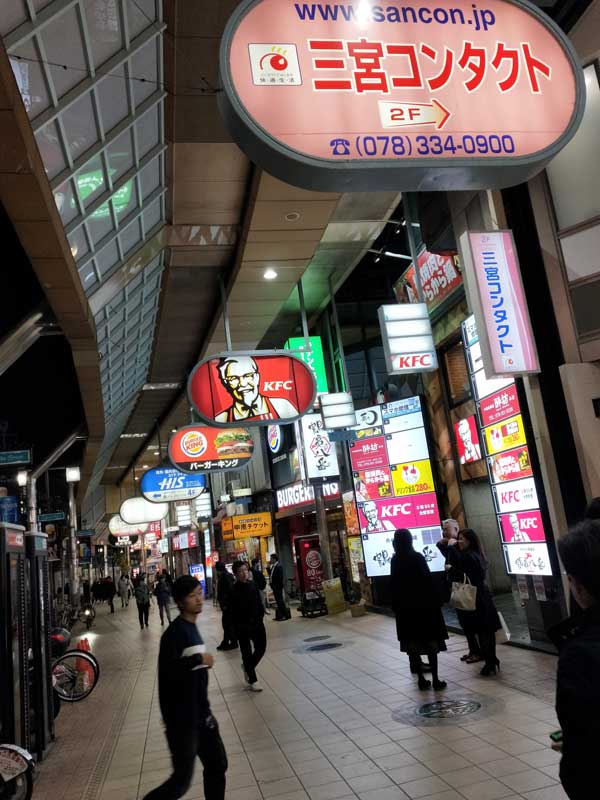 Inside restaurant
Yes lucky us as we have a larger crowd, we were given a special room.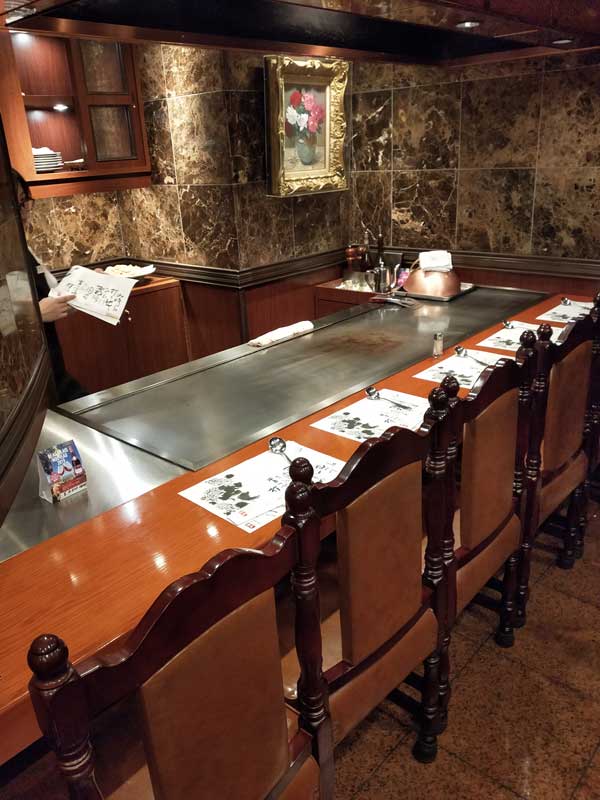 Chef at work.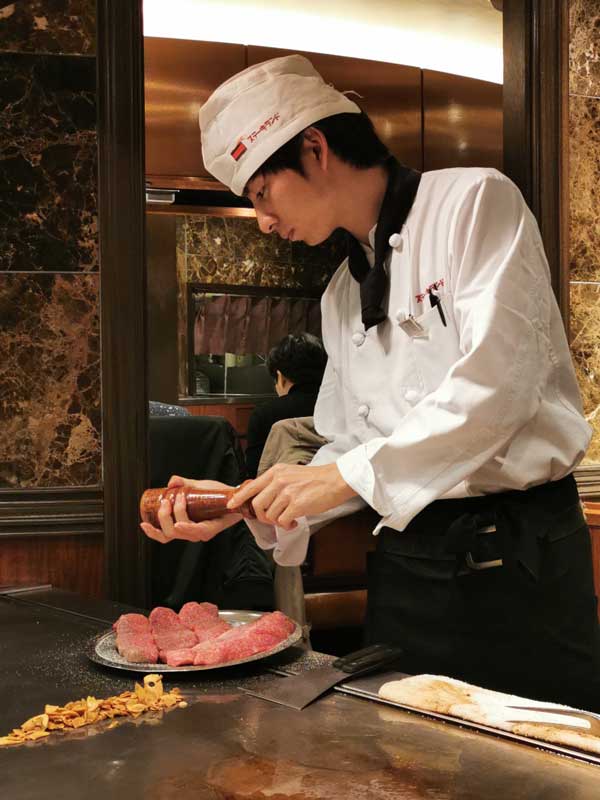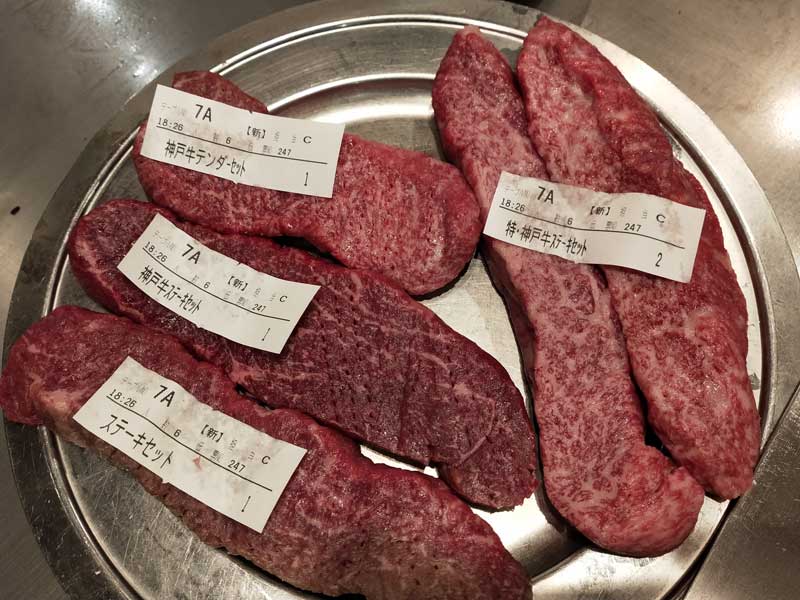 Final Presentation.
Salad with miso soup as appetizer and then full meal. Full meal with fried garlic, cucumber, fried mushrooms, fried bean sprout, some form of soft jelly (not sure what was it), a small plate of sweet sour carrots (again not sure what was it) and Kobe beef, not forgetting a bowl of rice.
Yes, we had seafood as well but frankly, it is not worth ordering seafood due to the price tag. Portion is tiny.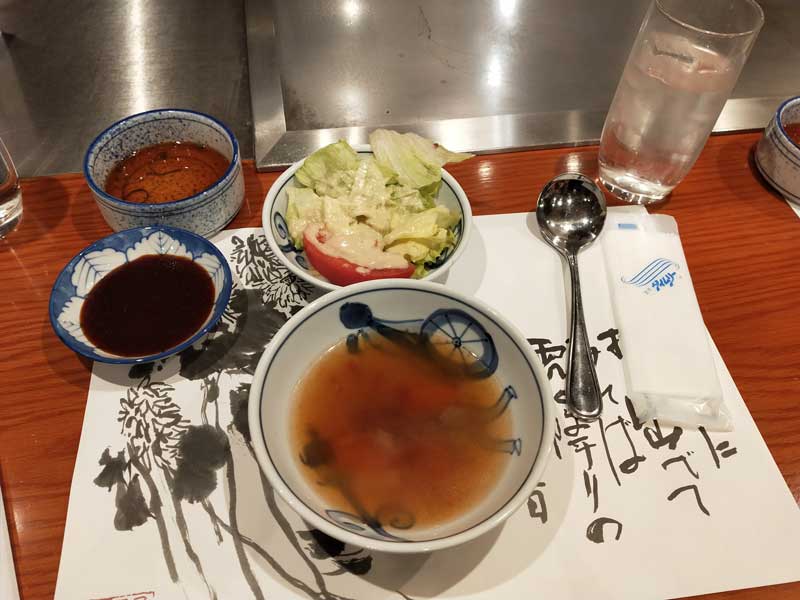 What I think:
Taste: Meat is soft, tender and juicy. One word: Super Yummy! Oishi! Delicious!
Con: Seafood small portion and not worth ordering due to the price.
Price: 4,880 yen per-person exclusive of tax. If you are up for Kobe tenderloin, it would cost 5,880 yen per-person. Maybe next time I would try the Kobe tenderloin beef.
Portion: Just the right amount of meat to fill my tummy.
Google Maps Location: