Beef Balls Noodles Shop Hillier Street Hong Kong. Best beef noodle balls shop apart from their famous porridge. I was in Hong Kong with my wife in 2012 and we found this shop that serve very tasty beef noodles soup. Of course there are other famous shops around town which are very popular from Google search, I found this particular shop to be as equally good. To be honest, sometimes you need not follow Google search recommendation to find good food, walk around the town and try out different shops and you might just find the one that you like.
Famous shops are usually crowded. This shop that we go to is also always crowded. And yes, you guess it right, restaurants in Hong Kong are always crowded due to the limited seating and smaller shop space. So, be always prepare to wait in line for a good meal. Anyway, we were there early and queue is only started to form. Because I don't like being rush for food, I decided to order take away our beef balls noodles soup and eat it elsewhere. Many Hongkies take their lunch at the park anyway, so we follow suit.
There are 2 queues and the longer queue are those waiting for a place to sit in the restaurant and supposedly other queue for take away. I was lucky that day as I was the only person taking it away so I don't need to stand in line. I just go order my food with the waiter and it was ready in 5 to 10 mins. We took our food and walk to a small park that is situated not far from the restaurant. There are many offices around Sheung Wan station so it is fairly easy to get a place to eat. We managed to find some seats in a small garden around Grand Millennium Plaza.
My wife and I love the beef balls noodles (rice noodles). The beef balls are tender but chewy (not soft). I really love the beef as well as the soup. If I do go to Hong Kong again, I would definitely go to this restaurant again.
Our local beef brisket noodles is equally good. Read more here!
What I think:-
Price: Cannot remember but I think around HKD21.00 a bowl.
Portion: Size is smaller than usual (maybe because take away order).
Pros: Beef balls are tender but chewy with beef taste.
Presenting:-
This shop is somewhere in Hillier Street (walk straight after exiting Sheung Wan Station – Subway)
Queue up for sitting. The other little window for take away orders.
Along Hillier Street.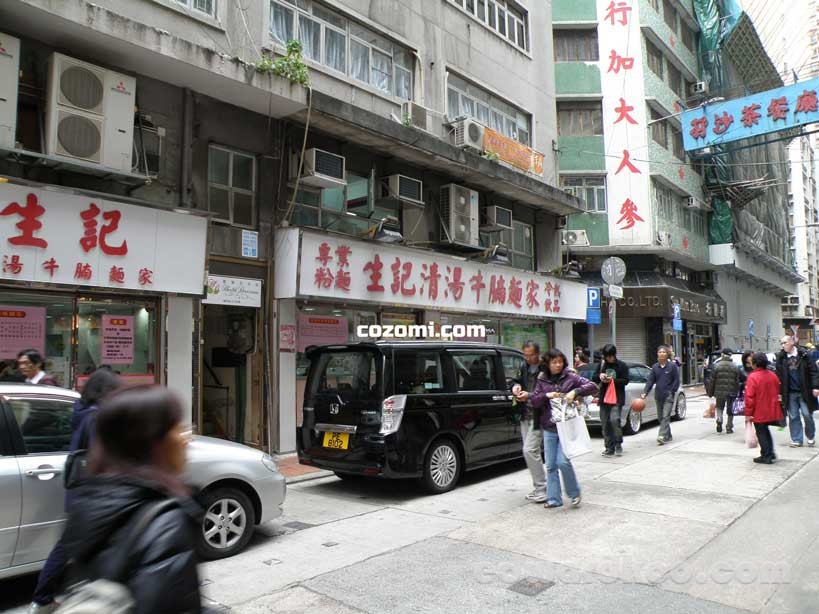 Take Away Beef Balls Rice Noodles Soup. (Super yummy).
Google Maps Location
Looking for porridge in Hong Kong? Have a read my other article here!