I am trying my hands on homemade pork burger. I love burgers especially chicken and pork burgers so I really wanted to try marinating and cooking the burger myself. Although I do not have a grill at home, I would cook it with normal pan instead. Today, I found some minced meat in my fridge and start to marinate it and made myself some delicious pork burgers.
Ingredients:
flour.
cornflour.
breadcrumb.
white soy sauce.
dark soy sauce (a bit).
HP sauce (bought from supermarket).
black pepper.
egg (depending how much meat).
pinch of salt.
Chinese wine (optional).
black vinegar (optional).
Just mixed all ingredients together in the minced pork and fridge for 1 to 2 hours. Actually, the marinated minced pork can be kept in the freezer if it cannot consume in 1 go.
Cooking it:
add vegetable oil or butter onto pan.
add marinated minced meat.
add white pepper to taste.
add little bit of salt.
fry until cook.
toast the burger bun (add butter or margarine).
then add cheddar cheese, mayonnaise, fried egg, onions, vegetable and chili sauce. Commercially available burger buns are a bit small in size so I need at least 2 to 3 burgers to satisfy my crave.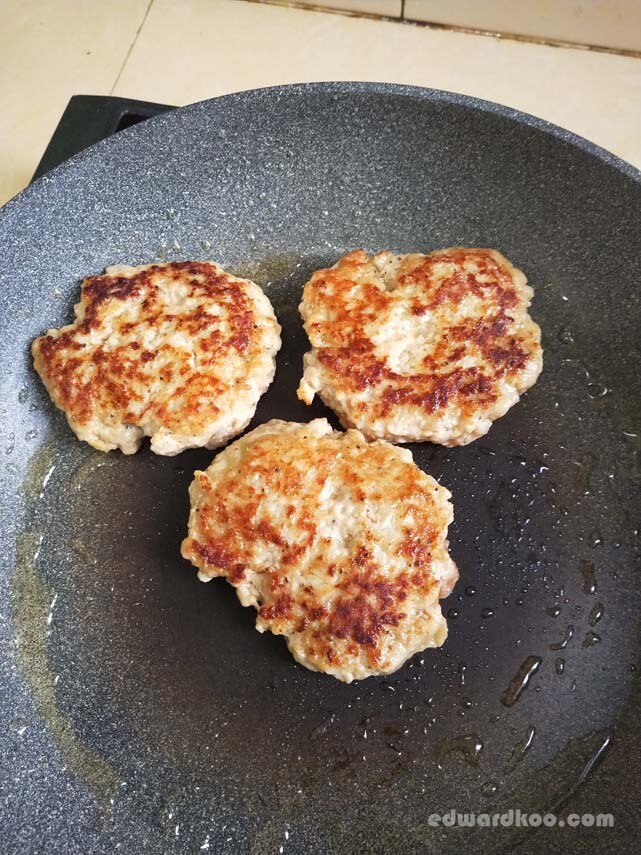 It was good! I'm satisfied.